Kolbe Windows and Doors
Westside is the sole distributor for Kolbe Windows and Doors in Alberta. Their products are known for their outstanding quality, extensive options and special features. Their warranty far exceeds industry standards. For the ultimate in durability and design flexibility, Kolbe's VistaLuxe Collection® and Ultra Series extruded aluminum clad products are finished with fluoropolymer coating in over 50 vibrant colors. With all of these choices, you are sure to be able to find the perfect color for your project. However, if for some reason you can't find what you need, we can do any custom color as well.
Wood species available include clear pine, flat grain fir, vertical grain fir, knotty alder, oak, maple, walnut, cherry, African mahogany. Interior staining and pre-finishing is also available on most products. Kolbe wood products can be ordered LEED Certified.
See www.cagbc.org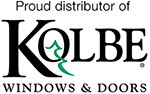 VistaLuxe® Collection
Developed in collaboration with architects who specialize in contemporary projects. As a result, it meets the aesthetic of clean lines and multiple units with large expanses of glass, while offering a warm, organic wood interior. The direct set is at the heart of this collection, with the direct set corner unit being the latest product addition. Casements, awnings, geometrics, sliders and doors are available to match. Complementary products include folding windows & doors, as well as multi-slide doors. Learn more at kolbewindows.com.
Ultra Series
Ultra windows and doors combine extruded aluminum with a fluoropolymer coating to offer the utmost in strength and durability. An array of accessories that mirror traditional wood window and door profiles can further enhance any architectural style. Learn more at kolbewindows.com.
Heritage Series
Heritage windows and doors represent the foundation of quality and versatility for which Kolbe is known. Many years of innovations allows them to offer an extensive product line that provides design flexibility for both wood or clad windows and doors. Learn more at kolbewindows.com.
Forgent™ Series
windows are constructed of Glastra®, a proprietary material formulated for strength and resilience. Limited options and short lead times for projects requiring windows and doors quickly make the Forgent Series a perfect choice for new construction or replacement. Learn more at kolbewindows.com